Configuration¶
The device can operate in two modes and must be in configuration mode in order for the web server to be active. The device (esp) LED will blink when the device is in configration mode (1 second interval). If the LED is constantly on then the device is in WIFI setup mode.
One of the following conditions will place the device in configuration mode:
Gyro has not been calibrated

Sleep mode has been disabled in the web interface

Placed in horizontal mode 85-90 degrees

Charger connected >4.15V (or the value that is configured). This does not work on the Floaty variant due to lack of hardware support.
Tip
The easiest way to enter configuration mode is to place the device on a flat surface and press the reset button on the esp a 3 times, each attempt must be within 3 seconds.
If the LED is solid on then it detected a double reset and has entered WIFI setup mode, in this case just press reset twice again.
Status¶
URL: (http://gravmon.local)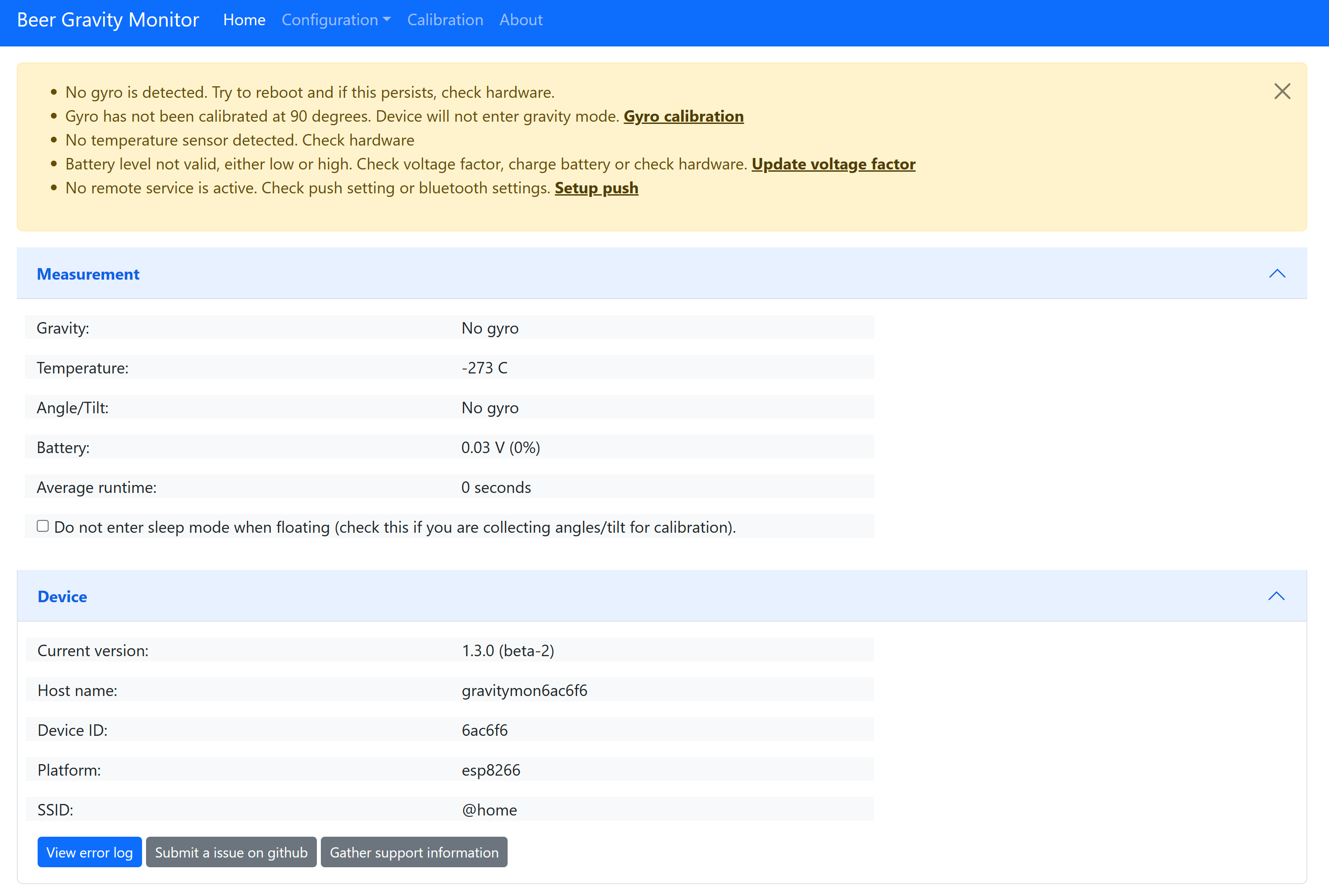 Configuration is accessed by entering the URL for the device, this will be the mDNS name device.local or the IP address. The following chapter assumes the device name is gravmon.
If the device is not fully configured or there are some hardware issues then these will be displayed on the top of the screen. There are also links to where the settings can be changed.
The main page shows the device readings; gravity, angle, temperature and battery charge. If the checkbox is active then the device will never go into sleep mode. This is useful if you are collecting angle/tilt for calibration. If this is unchecked the device will change mode as explained before.
You can also view the average time a gravity measurement takes. Under optimal setting this should be around 1.5 - 2.0 seconds. If this is higher than 2 seconds this is most likely connected to slow wifi connection. It will show 0 if data has not been collected yet.
Tip
If you are connected to the device via a serial console (speed: 115200) you can see the connection sequence and get the Unique ID and IP address from there.
Tip
The button view error log will show the last error messages on the device. This can be useful for checking errors without the need to connect to the serial port or to check what errors has occurred while in gravity mode. From v1.1 it will also detect any abnormal restarts or crashes and record these in the logfile (this applies to esp8266 only).